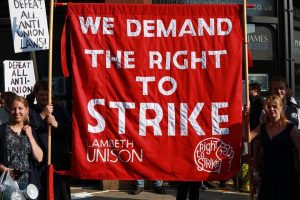 Show me the most pro-union employee in the government workplace and I'll show you the most worthless, lazy, workshy cunt on the premises.
And just who the fuck ever made it legal for cunts being paid by the taxpayer to unionize?! For fuck sake, at no point during a contract negotiation does the taxpayer get a say. No fucking wonder these assholes get the best benefits and pensions.
I worked for the U.S. government for 13 years until I couldn't take it any more. Joining the union was voluntary but their tactics were low down dirty & cunty.
An employee being paid by the taxpayer should never ever be able to unionize to enrich themselves and be shielded from accountability.
90% of those in the union were worthless when they joined or became that way as they logged time in the union.
Unions have become the bastions of lazy, selfish, overpaid CUNTS!!
Makes my bladder a pressure cooker!
Nominated by: Texas Trumptard