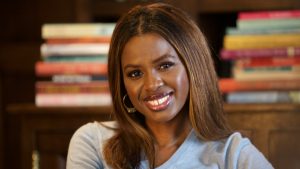 June Sarpong needs to be nominated once more.
On the BBC News website today she proclaims that 'white privilege' exists. Well, bearing in mind that she draws a salary far beyond her talent having been appointed 'Director of Cultural Diversity ' at the BBC it is patently in her interest not to say otherwise.
Most businesses have a a business model which is the opposite to that of the BBC. A business will find out what customers want and then seek to provide it. The BBC decides what is good for us regardless of the customer's wishes.
A little research reveals this Sarpong woman to be spectacularly ill suited to any job beyond working a till at Asda. However, June Sarpong enjoys a salary and lifestyle way beyond those of most white people by claiming that they are the privileged ones.
https://www.bbc.co.uk/aboutthebbc/whoweare/june-sarpong
Nominated by: Guzziguy 
….and this from Gingers Ballsac
A cunting for the white hating piece of shit June Konadu Sarpong OBE.
Fuck is it ugly inside and out.
This is the BBC's Director of Creative Diversity, who just happens to have a new book out "The Power of Privilege-How White People Can Challenge Racism".
In her words "white privilege is rife as unfairness is baked into our system".
She goes on about white people from a low income background that have an advantage because they are "never judged" on their race. The white working-class aren't exempt either as "they have more power than those of black and asian backgrounds".
Miss Sarpong who obviously feels hard done by was awarded the MBE in 2007 for services to broadcasting and to charity. In 2020 she was awarded the OBE for services to broadcasting.
The BBC pays this poor slave £75,000 a year for a 3 day working week.
Sarpong, my fucking heart bleeds for you as you are nothing more than a monumental cunt.