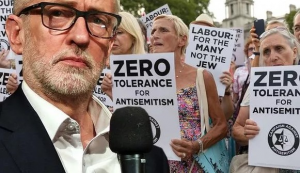 First he gets suspended from the Labour party after his dipshit comments following the release of the report into Labour's anti-Semitism under his 'leadership', now magic grandpa has apparently decided to nominate himself for both cunt of the year and retard of the century.
Throughout the Flu Manchu, Corbyn has repeatedly broken the rules. From turning up to parliament, despite the rules saying MP's his age should stay away, to breaking social distancing rules by wandering around his constituency, trying to shake hands with people, to breaking the rule of six by attending a dinner party with MORE than six people.
Well, now he's done it again. Breaking travel restrictions by travelling from tier 2 London, to the tier 1 Isle of Wight, where he again broke social distancing rules by posing with various equally retarded Corbyn supporters.
He has also spent time with a fellow suspended Labour Party member and activist, Stephen Smith, who describes himself as 'neuro-divergent Labour' (translation: Loony Left), and who is currently under investigation over alleged anti-Semitism on social media. Just a couple of days ago, Smith posted a cartoon of the Israeli PM flying an IDF jet and firing 'defamation' missiles at Corbyn. The local branch secretary for Labour, Robert Jones is not happy, tweeting;
"… a suspended member – you really couldn't make this up. Of course, he wouldn't have known he was posing with a suspended member, but thanks Jeremy: you don't come down here when you could have done as leader, and now here you are — gurning for selfies. But never mind: I hope your batteries were re-charged and you had a rest, anyway."
Apparently, Smith also has a habit of posting YouTube videos in which he rants about Labour, while naked. Isn't there some kind of indecency issue there? Anyway, Corbyn's continued insistence that he is exempt from Bat Flu rules, and his graceless comments about the anti-Semitism report make him a complete and utter cunt. Again.
Nominated by: Quick Draw McGraw
(More here – DA – https://www.dailymail.co.uk/news/article-8908945/Jeremy-Corbyn-escapes-Labour-anti-Semitism-fury-weekend-Isle-Wight.html )