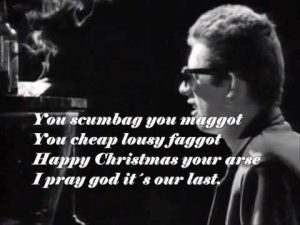 Woke Fuckers that want to change fucking everything. I have just read this latest piece of woke cuntery on msn news I don't read this pile of shite but it appeared when I logged out of my emails.
Fuck me cannot they leave anything alone. BBC Radio 1 have again changed/edited the lyrics to "fairy tale of New York". The word "faggot" might be deemed upsetting to Homo-sexual s..
https://www.joe.co.uk/news/lyrics-fairytale-new-york-censored-211253
I refused to read the story on MSN found it on link above.
I've said this before but will state it again the world is being corrupted before our eyes by K-weers, snowflakes, trann ie bend-end-ers, lefty, socialist, commie, pea doh apologists, real life bigots, opinionated air headed university lecturers, fully supported by the bastard lefty thinking Cunts that run almost all main media outlets.
Cunts everyone of them Leave things alone. The song has been popular for what it was; for ages. Stop fucking about trying to invent outrage. Realise that most folks are normal, even homosexuals and don't constantly get upset by a fucking song 37 years old.
Cunts. In a very loud voice.. So loud as I've been told off by the Mrs for swearing.
Nominated by: Everyonesacunt 
…and another one from Captain Magnanimous
The clichéd shite of The Pogues is a cunt, isn't it.
The PC-BBC has decided to edit a "classic" Christmas tune by the Oirish comedy band The Pogues and their lyrics "you cheap, lousy faggot" for fear of hurting any homosexual's feelings although strangely it hasn't felt the need to do so in the last 33 years.
The song is about a drunk, quarrelling couple sung by Kirsty MacColl (daughter of folk singer Ewan) and Shane MacGowan (born Royal Tunbridge Wells, Kent).
Lawrence Fox decried the edit laughing at what the corporation deems acceptable for our ears. The Oirish comedy band then told Fox to "fuck off you Herrenvolk shite" (an allusion to Nazi master race ideology).
How embarrassing. After having your "art" censored and edited, you attack the person fighting FOR you and defend the perpetrator, simply to signal your virtues. Are you condoning anti-homo sentiment, are you corroborating the woke establishment, or are you imaging your ubiquitous pay-cheque being a tad more meagre and paltry this year?
Perhaps the BBC would like to change other Pogues' lyrics, the violent ones, the anti-English ones, the Rebel songs, and the ones about alcoholism and fucking whores?
The Pogues are a miserable bunch of phoneys. A comedy Oirish group without the comedy who probably all live in London. They're a hackneyed, one-trick-pony pub band still peddling non-existent clichés about Oireland whilst the violin, mandolin, and school recorder are massacred by unwashed, toothless, millionaire goons wearing rags.
Dirty Old Town? Dirty, Old Cunts.