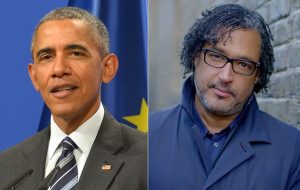 A special old time loser cunting please for rapidly ageing and fading former President Obama. The old cunt has written a book (I wonder what colour crayon he used?), and the BBC in particular are taking a knee big time:
https://www.bbc.co.uk/iplayer/episode/m000q1g1/barack-obama-talks-to-david-olusoga
Special Wireless 4 programme this morning at 0900, no doubt repeated later in the day, the sanctimonious voice of the chocolate coloured Blair holding forth about everything under the sun, and when I ventured into the high street this morning W.H. Smith, the rapidly fading newsagent and high street presence, had stacks of the book all over the shop – a very expensive way of buying bog paper, in my view.
Who gives a fuck what this raddled ex-President thinks about anything?
Nominated by: W. C. Boggs