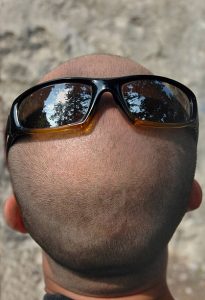 Cunts who wear sunglasses ( or any glasses ) on the top of their heads.
I have no idea who started this but their originality is lost in the mists of time. If you don't want to wear them take them off and put them in your pocket or manbag or what fucking ever. We all know you think you are cool by doing this but you are just making a cunt of yourself.
Don't get me started on the massive wankers wearing baseball caps with the glasses perched on the peak. You are beyond help mate.
(I cannot stand the cunts who wear baseball caps back to front. The brim is to provide eye shade you utter knobs – NA)
Nominated by: Freddie the Frog