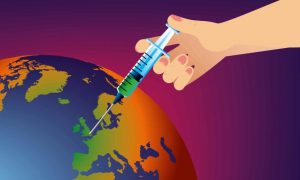 Vaccine Wars – the modern day Space Race, or how I learned to stop worrying and simply do not care anymore.
It now appears there are 2 or 3 main camps with regards to Covid-19 vaccines.
In the Red corner (see what I did there) we have Vlad and the Russian vaccine – conveniently named SPUTNIK V. That's supposed to be effective or so they say.
And yet, the Ruskies have been awfully tight-lipped of late with any news of whether they actually have a working vaccine and have not provided any further details of trials etc. In spite of Vlad proclaiming his daughter had been vaccinated.
https://nationalpost.com/news/world/russia-becomes-first-country-to-approve-a-covid-19-vaccine-says-putin-4
In the Red, White & Blue corner, we have The Donald, boisterous and rambunctious as ever and seems to think he's been given Captain America's Super Soldier Serum….again, or so he says.
No doubt that with the upcoming election, he'll soon be pissing up the side of lamp-posts or "Fire Hydrants!"  (I'm not a fan of Trump, but I don't think he's the anti-christ like most of the left wind lynch mob. Tony Blair still holding on to that title.)
This whole thing has now become a marketing campaign. It was always destined to be a political football. We're already starting to see sides being picked. Parts of Brazil are believed to have agreed to use the Russian vaccine.
My theory is that it will come down to money and allegiances – after all most things do, don't they?
Certain countries will go for one vaccine over the other, so as not to upset their allies, irrespective of which is best. That is to say if one vaccine is indeed actually better than another.
The poorer countries will go for whichever is cheapest and may end up worse for it.
Creeping up on the outside is Blighty and it would be nice if we as a nation just calmly stepped, in while the two aforementioned superpowers were trying to pee higher than one another, and craftily stole victory away from them.
The Russians recently attempted a disinformation campaign against the British vaccine.
https://nypost.com/2020/10/16/russia-disinformation-says-uk-covid-vaccine-turns-people-into-monkeys/
https://www.theguardian.com/uk-news/2020/sep/30/russia-spreading-lies-about-covid-vaccines-says-uk-military-chief
(Its the Grauniad, but don't let that put you off.)
Alas, even if we were able to do so, we won't be allowed to win.
Nominated by Harold Steptoe