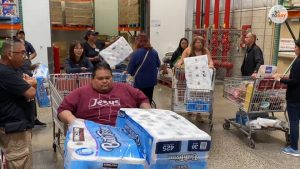 For my cunting debut, I nominate people who hoard toilet paper.
I just hit the last unit in an eight-roll package of toilet paper I bought during the Great Paper Goods Panic of early March, when the local grocery stores could not keep toilet paper (I believe you call it "bog roll"), paper towels, and facial tissues in stock.
The American public will sit placidly while their civil liberties are revoked and they are forced into a sort of neo-feudalist system, enforced by rampaging gangs of leftist twats.
All they ask is that a) they get a good cell phone signal and/or free wi-fi and b) that they don't have to wipe their butts with their hands. (They need the cell phone to work so they can post pix of the giant supply of toilet paper, right after the pic of the corn muffin they are about to eat.)
Never mind the pandemic. These runs on basic supplies occur every time a moderately strong series of thunderstorms roll into the Northeast from Saskatchewan.
Adding insult to injury, when I purchased the eight-pack of Scott brand toilet paper (because it was the smallest option available) I felt like a cunt.
I don't like feeling like a cunt.
So I issue a hearty cunting to all those bozos who fly into a blind panic when faced with the prospect of having to make alternative and temporary arrangements in the personal hygiene department.
Nominated by: A Connecticut Yankee in King Arthur's Cunt