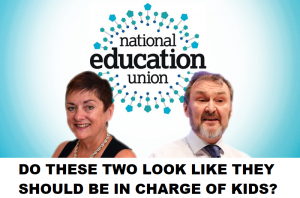 Here we go again. Another political load of bollocks from the lazy, lefty teachers.
'The UK's biggest teachers' union has backed calls for a 'circuit breaker' lockdown and has said it would support an extended two week half term in order for the measures to be properly implemented.'
These useless cunts have mostly done fuck all since March. Now they want to extend their fuck all some more. Rather than indoctrinating children they prefer to sit at home watching loose women. It must have been a close call.
Lets see – teach kids that LBGTxyz is normal and Tories are evil or sit on our fucking arses some more?
A tough call.
Nominated by: Cuntstable Cuntbubble
(Perhaps they should be rebranded "National Indoctrination Union" – DA)