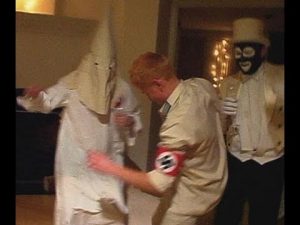 I know they've already featured, but the Markles deserve yet another nomination. Wow, they're really desperate to win "Cunt of the Year 2020" aren't they?
Their latest act of cuntery has been their unsurprising and completely uninvited "intervention" on the subject of "structural racism" in the UK. And this is not in any way connected to black history month, that's just a coincidence.
There sat Harry, King of Cucks, telling us all about his "awakening" and how we're all racist for holding black people back and all that bollocks (which is provable). He also claimed that London didn't feel very diverse.
What? Fucking what? Motherfucker, you haven't BEEN to London for at least a year. The place is more diverse than any other city on the planet. Shut the fuck up, you lying moron. And of course, sitting next to him (to make sure he stayed on script) was Woko Moano. Smiling in that fake, smug, self-satisfied way she has.
I was sceptical about the claim that black people are being held back. So I asked my black wife, my half black mother, several black relatives and friends and my 102 year old black maternal grandfather. None of them knew what the fuck Harry was talking about. None of them feel like they've been held back. They felt that the only black people who DO feel held back, are those who engage in criminal activity, and those work dodging cunts who have no intention of finding gainful employment, for which they blame whitey. In actual fact, it's THEIR OWN fault. They are victims of nothing but their own life choices.
Anyway, didn't Markle and Chuckles fuck off to the US for more privacy? And yet not a single week goes by that these pricks don't pop up to offer their unsolicited words of wisdom on various issues.
Here's an idea, Gingerbeard, shut the fuck up. You chose to turn your back on the UK and, worse still, your own family, for a stuck up, eye fluttering, over-ambitious, under-talented piece of skirt. You have NO right sticking your nose in now.
Pair of cunts.
Nominated by: Quick Draw McGraw
..and a related one from Dick Foxchaser-Fiddler
Prince Harry
" Harry said: 'Once you realise or you feel a little bit uncomfortable, then the onus is on you to go out and educate yourself, because ignorance is no longer an excuse. And unconscious bias, from my understanding, having the upbringing and the education that I had, I had no idea what it was. I had no idea it existed. And then, sad as it is to say, it took me many, many years to realise it, especially then living a day or a week in my wife's shoes.' Harry spoke from his £11million home in Montecito, California,"
What a fucking tool. The thickest Cunt in Christendom suggests that we need to educate ourselves.The sheer nerve of the Cunt astonishes me…what makes him think that he is a position to lecture anyone on the iniquities of inequality? He is the most undeservedly privileged Cunt on the planet…any normal illegitimate ginger simpleton would have been put in Council care at birth…I bet The Sponger-Windsor clan wish that they had done just that now.
Harry should have it explained to him in words of one syllable that he is nothing more than an irrelevant,stupid dupe…I hope that his wife does just that when she leaves him for the next rung on her ladder.