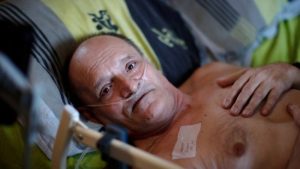 "Facebook says it will block a Frenchman suffering from an incurable condition from livestreaming his own death.
Alain Cocq, 57, planned to broadcast his final days after starting to refuse food, drink and medicine on Saturday.
President Emmanuel Macron had earlier denied his request for euthanasia.
Mr Cocq wants the law changed in France to allow terminally ill people to die as they wish.
Some groups, including the Catholic Church, oppose euthanasia on moral grounds."
Wot a cock-up. In effect the little froggie cunt wants to top himself on air and to live stream his remaining days or weeks for the enjoyment of the rest of us or "pour les autres" in frog.
Has to be better viewing than the general merde on telly during these trying times. Hats off to monsewer cocky I say, your human right old matelot and screw Macron.
Little suggestion – if you do live long enough to make the 24 hour news cycle have a shotgun handy for an up the mouth job if all starts to get boring. Remember your viewers attention spans.
On a brighter note, given the covid shut down and the mental health crisis, you might start a trend me old cocky – a spot of on-line hari kiri from Japan, some Hollywood drugs deaths, spot of failed jihadis detonating the old big bang belt bomb and not to leave out a few teenagers who have failed their exams.
Misery for a few, entertainment for the masses. Such is life – now how could those crap stand-up comics make their acts funnier?
Nominated by: Sir Limply Stoke 
https://www.bbc.co.uk/news/world-europe-54041566
(Despite the rather tongue-in-cheek sentiment from Sir Limply, the subject matter is quite sensitive/serious for some – DA)