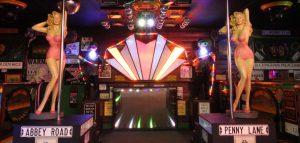 More a lament than a cunting.
Found myself in Barnsley town centre the other night on Welligton Street the main thoroughfare for nightlife. 'Digital', 'Volt', 'Secret' the names of the pubs. If you can call them pubs.
I peered in (not open because of Covid) all three the same minimalist square tables and chairs, just painted plaster on the walls. I remember it going downhill with the 'Pulse', then 'Bar One' which was a shed.
I have almost nostalgia for the craze for theme pubs. The 'Sportz Bar' wasn't bad-aerobics on the video, basketballs on the pumps. The main 'activity' though getting drunk. 'Panama Joe's' up the riad-,'Route 66′ guitar on the wall, Elvis hits, on the bar an Indian Chief. (would that be lowed now?) 'Mustsng Sally's' wasn't bad -saloon bar doors, the place in the shape of a horseshoe.
The funniest theme pub though was 'No Great Shakes' wait for it – the aftermath of an earthquake- the ceiling and walls at angles to each other. It made you feel sick (and that was before the drink). Same with 'The Beach' too much liquid sloshing about (and that just the decor).
The Irish pubs where plastic paddies plotted their (round the town).
Further back I remember 'The Radical and Liberal Club' mentiined in Orwell's 'The Road to Wigan Pier' Changed into 'Pharaoh's' the facade an ancient Egyptian tomb. Buried Barnsley.
My mother and father in 'The Gardener's Arms'. I was sent in to get the pop and crisps. So exciting. The 'Vine Tavern' was an old style pub with a fire in. The landlord keeping watch to see if people had their drink, everyone sat close. Bar bllliards, darts of course the silence respected if there was a match.
Oh well, all passed. 'Time'
Nominated by:Miles Plastic