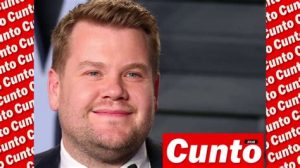 Sorry to be a boring old bastard but may I humbly request another cunting for James Corden.
Just seen a picture of the unfunny cunt sporting a beard (the face that should be hit by a thousand bricks)
The man is a mega cunt as it is, his face now represents a rather tatty Mangalitzer's (curly coated variety of pig from Hungary getting popular here in Lincolnshire as the Lincolnshire curly coated pig became extinct in the 1970's) nether regions.
He may have wads of wonga but he has no class, style,or anything else.and about as funny as a doctors waiting room full of illegals with infectious TB, new varieties of the Pox and AIDS.
Nominated by: Black biscuit