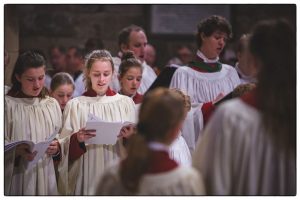 A House of the Lord cunting for Sheffield Cathedral and why would I want to cunt a grand and historic Cathedral, well it's not the actual building but the cunts who run the place.
The Choir which was mainly white and male (adults and children) has been disbanded due to lack of diversity, the great plan is to reform the choir in a years time to better reflect Sheffields diverse community, but the current members will be welcome to return (maybe, if they can can change sex and colour).
Rather than encouraging effnicks (which the choir claim they have been doing) to join the choir, the infinite wisdom of the grand masters of the Cathedral is to completely dump it and start again.
There must be case for racial discrimination, the poor kids in the choir just can't help being white, perhaps blacking up as per the black and white minstrels and singing mammy would tick the right boxes.
Cunts!
Nominated by: Sick of it