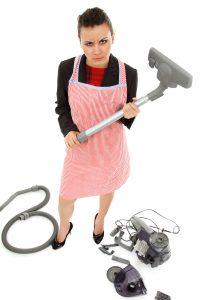 A round the house Cunting for Vacuum Cleaners.
The vacuum cleaner is a very simple contraption, an electric motor (apart from the billy goat which is petrol) an impeller and some form of collection bag and filter.
The flaw in the system is the collection bag and the filters that slowly block causing the motor to labour (sometimes overheat) and reduced performance.
Dyson miniaturised a dust extraction system with his cyclonic tubes and came out with a very good vacuum cleaner, (there are two filters in it, but very minimal maintenance) I think it was the DC9 that we had, I fucking loved it. Then the MRS decides that it is too heavy, cumbersome and the lead gets in the way so we need to get one of these new super duper cordless ones. The advert shows this wonderful slim line object that zips round the house with amazing performance and even a perfume insert to freshen the room as you clean. So we bought one.
When it turned up it was not bad for a little cordless thing (18v) but it did not clean to the edges of the room, I also noticed that it had a few problems with the step from rug to floor, however that was resolved by purchasing the hand held version with upholstery attachment, that also worked well for a bit.
Both systems have composite foam and rubber filters with a cotton core, according to the manufacturer easy to clean. Are they fuck, whether you hand or machine wash the fuckers a residue of shit seems to remain inside them that then starts to ferment during the drying process.The end result is a smell of wet dog being blasted round the house as you clean, I fucking hate these new Vacuum cleaners and morn my old Dyson.
Nominated by: lord benny