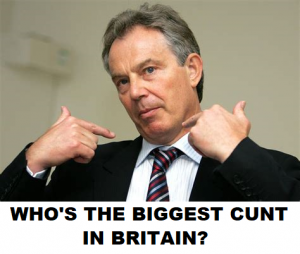 In accordance with the sound principle that some cunts can never be cunted enough, I'd like to offer a 'stick the EU flag up your arse' nomination for Tone 'the Remoan' Blair.
'Mr Dodgy Dossier' is always good for a soundbite in his increasingly desperate attempts to stay relevant. Speaking recently at a Reuters news event, he whined on yet again that Brexit was a huge, horrible mistake by the people of Britain. 'I'm very sad about it', bleated the world's biggest bellend. 'I'm afraid that no one will ever convince me that Brexit is anything other than a total and complete disaster'.
A total and complete disaster, huh? Well as the old saying goes, it takes one to know one. The EU is staggering under the weight of massive economic problems, ever-increasing Euroscepticism, not to mention a growing migration crisis, and appears to be wracked by tensions and in-fighting. I reckon it likely that more and more people in the UK are realising that we pulled out in the nick of time.
They probably all wish that Bliar's old man had done the same. What a fucking cock.
Nominated by: Ron Knee
And Quick Draw McGraw chimed in with this:
Brexit is a total and complete disaster for Blair, because it completely fucks his ambition of being the EU President, a job he's wanted since leaving Downing Street. Like all hardcore remainer's Blair is, as they say in the US, butt hurt. We voted the way we wanted to, rather than the way Blair and the other traitors expected us to, and now they're all throwing a tantrum.