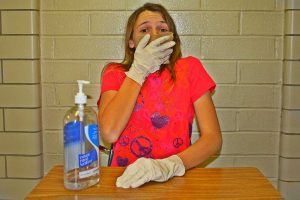 It's very simple, so maybe you can understand, even if you do seem to have lost your mind amid all the supposed death and destruction.
Now then. If you are scared of this virus, or any of the millions of other viruses out there, take precautions. But leave the rest of us alone. It's not your business to worry about other people. That's their business, isn't it? Remember?
If I want to go to the gym, or the pub, it's not your business. If I refuse to wear a mask, it's not your business. If I don't want to get tested, or vaccinated, it's not your business. If I get too close to someone and you don't like it it's still not your business. You should worry about keeping yourself safe, and leave the rest of us alone to do the same. That is how civilised people behave, isn't it? Do unto others, the Golden Rule, remember?
You can stay at home. You don't have to come into contact with anyone else for the rest of your life if you choose. Stock up on hand sanitiser, get plenty of masks and protect yourself. But even your nearest and dearest will get sick of you eventually, and they will stop coming to visit. But at least you'll be safe.
Stop complaining about other people doing normal human things. That has never been considered a nice thing to do. People might seem to agree with you if you ever get close enough to speak to them, but they may well be thinking "cunt" the whole time. I'm thinking that, when I'm talking to one of you. Stupid cry-baby, curtain-twitching, bed-wetting cunt. Mind your own business, you miserable cretin.
Nominated by: Paul McCuntley