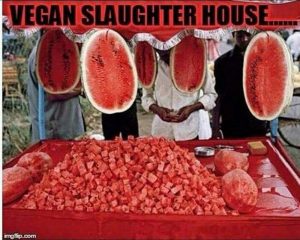 A vegicunting for Animal Rebellion.
Never heard of them? Well they're bunch of brain dead animal rights activists who dyed the waters in Travalgar Square red to show us all how wicked we are by eating meat. So what? There's lots of cunts like these around, so what makes these cunts special?
Well, it seems that they have solved the mystery of the origins of Covid-19 and come up with the solution to a problem that has killed thousands around the world.
Animal Rebellion tweeted: 'Animal Rebellion have now dyed the Trafalgar Square fountains red, symbolising the blood that is on the hands of the UK Government.
'We are here today to demand that the government prevent future pandemics by ending animal farming and transitioning to a plant-based food system.
'This crisis could have been prevented. The science tells us that 3 out of every 4 new infectious diseases originate from animals.
'The UK Government must protect the people, not support climate-destructive and exploitative industries'.
So there you have.it – the pandemic was caused by meat eating and going vegan will prevent it happening again. Never mind that only eating veggies will probably kill have the population of the world through famine. At least we won't die from disease.
Fucking idiots…
Nominated by: Dioclese