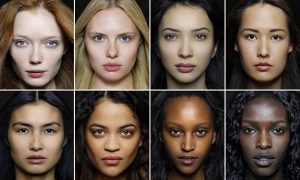 Black is Black – or Is It?
One of the most irritating aspects of the current obsession with race is that the term "black" is used generically for people who are not actually black but of mixed race, either directly or through their ancestors.
Lewis Hamilton, for example, is a product of black and white parents and is strikingly different from someone like Serena Williams who is overwhelmingly of African origin. Hamilton doesn´t even look particularly black because his "black" background is Caribbean, where there was lots of mixing, yet has adopted the black cause. I wonder what his white mother thinks.
Tiger Woods is another ethnic cocktail but, unlike Hamilton, he has had the sense to keep his mouth shut during all this BLM nonsense.
Another example is Naomi Campbell who has a Scottish surname and is regarded as "black" – although she is completely English – but her father was said to be of Chinese origin, a not uncommon mixture in Jamaica.
If you visit the United States, Latin America, the Caribbean and Africa you will see that lots of "black" people have European, Indian, Arab or even Asian blood. In fact, many of them could claim to be white, Arab or Asian depending on which ancestor they chose.
By claiming to be black, these people are turning their backs on their own parents and ancestors. Pure denial, so common in today´s world.
Nominated by: Mr Polly