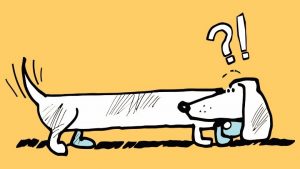 Who or what is the dog? Well the misfits and weirdos on this site (myself excluded, natch) plus the majority of the population, of all hues.
And the tail? – Soshul Meeja and what it consists of:-
Shrill trannies, feministas and 'proud' shirtlifters.
Woke cunts looking for offence and victims at every turn.
Commies, crypto commies, commie sympathisers, champagne commies, crypto champagne commies, Crypto champagne commie sympathising luvvies and on and on.
Bandwagon jumpers – oh the tewwible bwutal polith.
History deniers.
Cunts who feel guilty about everyfucking thing without giving up fuckall.
There are more. Plenty more. But until the BBC and C4, politicians, the media, education and fucking councils acknowledge that these cunts are the vocal tiny minority we are on a downward path. The Chinese, Russians, Muzzies are all pissing their sides at our decline.
Wag, wag.
Nominated by Cuntstable Cuntbubble