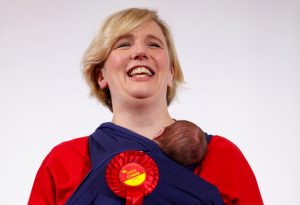 Order, Order! – a mumsnet cunting please for this Labour M.P., the Joan of Arc of Parliament.
Creasy has always made quite a thing that she is a mum, and also a VERY IMPORTANT lady, with a VERY IMPORTANT job, and she has some VERY IMPORTANT things to do (yes, she's important)
Creasy was miffed today when Jacob Rees-Mogg announced MPs would have to return to Parliament in June.
This doesn't suit Creasy (did I say she was a mum?). "What are we to do?" she asked – "careers" with "child-minding responsibilities"..
Glamorous mum Creasy didn't leave it there though. Between the SMA and the shitty nappy she came up with a really envious Labour bon mot "I know he is not fond of the nanny state, but not all of us have nannies". Oh, well played, Mother Creasy.
If this mouthy cunt finds the duel job of being an M.P. and a mum, perhaps she should consider her position, call a by-election and shut the fuck up. What a gold plated arsewipe.
Nominated by W. C. Boggs