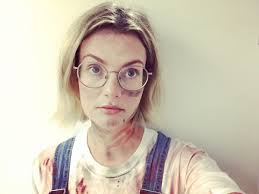 A brisk cunting for Siobhan Thompson, SJW hag, cat lady and writer for children's cartoon Rick and Morty and woke comedy site College Humor (sic).
In a misguided attempt at humour, she wrote that Boris Johnson deserves every blunt needle he gets'.
She has since locked her Twitter page but the comment has been archived. One quick look at her visage tells you she has been grown in a vat of SJW genetic waste. The odd-shaped head, dead eyes and idiotic grin, as well as the mandatory geek specs.
Cunt.
Nominated by Cuntamus Prime