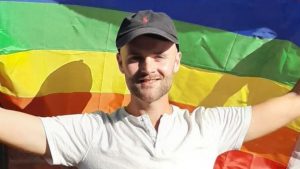 Alex Hancock
Who the fuck is that? I hear you say, well he is a fully paid up member and full time victim from that sea of tragedy the LGBT + community
https://www.bbc.co.uk/news/uk-52724818
This poor soul is worried that the rainbow flag he flies in support of his 'LGBT+ cunt' community is being swamped by the people flying flags in support of the NHS. His gay flag is lost Amongst the others and it's unfair and he will go home and cry if something isn't done about. Fuck me do we really have to listen to this sort of cuntishness anymore. People are dying, furloughed cunts are lapping it up, the country is going broke but poor old Alex is stamping his feet at the meaning of his flag being lost during the pandemic.
However In support of Alex I shall now insist that the 6 year old twins over the road take down their pictures of rainbows now, it's just not on that they should hijack poor old Alex's symbol for their own needs and not first be thinking about the needs the LGBT+ community.
Alex you are a cunt and the BBC are cunts for reporting this wank.
Nominated by, Cuntsince1066