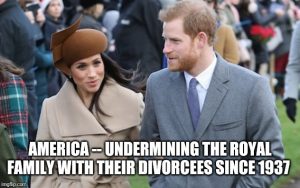 Blow me down and who'd have thunk it? A piece of Earth-shattering news has broken; Me-gain Markle and her puppet, Prince Harry de Halfwit have left Canada 'for good' to settle in, er, Los Angeles.
Coronavirus restrictions notwithstanding, they fled Canada before the border closed. Another private jet, one wonders? So much for the assertion from Little Miss Sparkle that she wouldn't live in the States while The Don was president. Apparently, the happy family is now in lockdown in a secure community to sit out the current emergency. Mmm, I wonder who's picking up the security tab now?
I honestly don't think that many of us saw that one coming, but 'her people' are saying that it's a good idea because she can be close to her mother, and her 'support network'. Oh, and of course, there's her budding film and fashion career to think of. I'm sure that she'll now be very happy mixing it on the awards night and chat show circuit with the Kardashians, the Osbournes and all the other slebs that hang out in Tinseltown. They're clearly her kind of people. Likewise, the Dumb Prince of Bel-Air will surely relish life as a bit of royal arm candy for his lady love to swank about with. Well, at least until she decides that he's outlived his usefulness and it's time for the divorce.
Enjoy life in the 'woke' capital of the world, you tedious, irrelevant Muppets. You'll blend in perfectly with all the other hypocritical, virtue-signalling cunts. Just don't ever darken our national doorstep again.
Nominated by Ron Knee