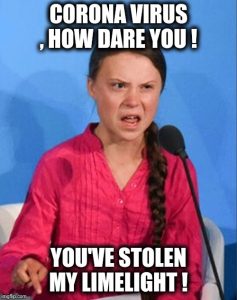 Greta Thunberg – once again a publicity-seeking cunt. Cant say it better than the BBC news item:-
'Greta Thunberg believes she had coronavirus'.
'Teenage climate activist Greta Thunberg has said it was, "extremely likely" that she fell ill with Coronavirus, but has now recovered.
The 17-year-old said she felt "tired, had shivers, a sore throat and coughed", after returning from a trip in Europe, so self-isolated for two weeks.
"Everyone feeling ill are told to stay at home and isolate themselves. I have therefore not been tested for Covid-19, but it's extremely likely that I've had it, given the combined symptoms and circumstances," she wrote on Instagram.
She warned people to stay at home because "our actions can be the difference between life and death" for others'.
Nominated by knobrot