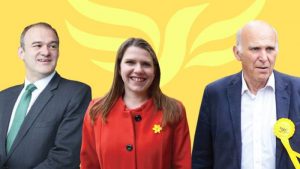 THE LIB-DEMS:
A Busy-doing-nothing, deeply sincere and inclusive cunting please for the political party who is to the smack of firm government what Alan Carr is to heavyweight boxing – yes it's the Lib-Dems, who, in an effort to prove how fucking pointless they are, has decided to put off their "leadership" election for a year (due to Coronavirus, they say, more likely there isn't anybody good enough to take it up):
https://www.standard.co.uk/news/politics/lib-dem-leadership-contest-postponed-coronavirus-a4399171.html
The current incumbent, as "acting" leader (though not acting very well) Ed Whatshisname, is up against dimwitted four eyed, EU worshipping fuckwit
Layla Moran (who yesterday whined that the government put "Brexit before breathing" as we wouldn't subscribe to the EUs ventilator scam). The daft cow couldn't lead the Monster Raving Looney Party as she is gravitas-free.
When will the sandal wearing, Archers worshipping, knit your own lentils supporters of this pointless party realise just how useless they are?
Nominated by W. C. Boggs