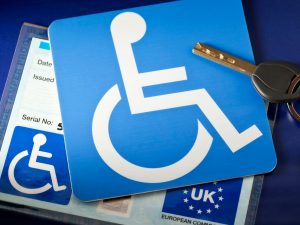 Well, I am finally fucked: I cannot walk as far as I did, in fact, I am pretty much fucked and am about to admit defeat (de foot is de problem)
So I trotted off to the UK Gov "How to get a Blue Badge" page to check the rules on how I can apply for myself for a Blue Badge. I am not applying for anyone else, just me. So apart from the obvious, these qualifying rules struck me as a little odd:
* You have a severe disability in both arms and drive regularly, but cannot operate pay-and-display parking machines
(They also have another permit for not paying for their round down the pub)
* You are constantly a significant risk to yourself, or others near vehicles, in traffic, or car parks
(surely you would not be applying for a blue badge if you have these issues with vehicles?)
* You find it difficult, or impossible to control your actions and lack awareness of the impact you could have on others
(ok, they give driving licences to these people, so why not a Blue Badge?)
* You regularly have intense and overwhelming responses to situations, causing temporary loss of behavioural control
(The weekly shop in ASDA can cause this)
Am I insane, but should people with these issues be driving a car, or allowed to apply? Surely they have carers, or appointed adults to do this for them?
Nominated by lord benny