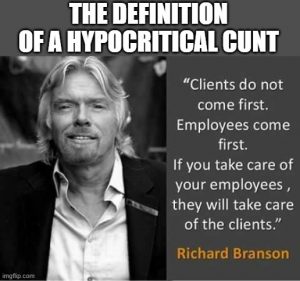 Now all of us on here know that Richard Branson is a complete cunt. However this time he has gone one step further and made the entire nation realise he is a 110% total CUNT. At this time of crisis, does this bearded bell end dip his hand in his pocket and save the well being of his workers? No, he pleads poverty and asks them to take unpaid leave. He has probably done this while getting a reach around from Lineker or Flabbott on his private Caribbean island.
My advice Dickie, is to get your hands into your pocket, sell your fucking island and pay your hard up staff. Or alternatively, make all of your businesses available to the NHS and key workers. I notice the Neville brothers have done just this and when this is over, you should be stripped of your knighthood and have it placed on the shoulders of the Nevilles, or any key worker who kept going and going to help others.
You are not some self made billionaire (I've looked it up. You are a privileged twat) you are mummy and daddy's little boy and you are an embarrassment to this nation. Do us a favour Rich, if your islands got a 50m cliff, please jump off it at the earliest opportunity, you fucking shit, piss, wank CUNT.
Nominated by Cuntsince1066
Richard Branson is a bit of a vintage cunt, isn't he?,He's gone cap in hand to the government saying pity poor me, my business needs propping up for the price of, wait for it, £7.5 Billion!!!
Where one of the Neville brothers is paying his staff full wages and letting NHS staff stay for free at his hotels, Branson, the cunt who could easily with his vast wealth pay his staff, won't.
I hope his business fucking flops, his staff find a better employer and he goes and stay on his island, probably staffed by young girls. Epstein was a friend of Branson, wasn't he?
Nominated by Once a cunt always a cunt