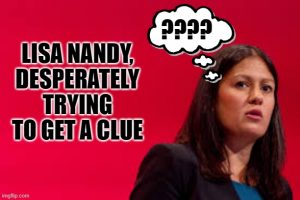 A "for the many not the few" cunting please, for Labour leader wannabe, Lisa, she of the bouncing knockers and strangely alluring smile, who has "demanded" Boris "agree with the EU to delay Brexit":
https://www.express.co.uk/news/politics/1258281/Brexit-news-latest-uk-coronavirus-Labour-Party-Lisa-Nandy-Boris-Johnson-update
Lisa, darling, you could give me a soapy tit-wank any day of the week, but does she realise how pathetic and weak she makes herself – and the rest of us in Britain – sound?
Old Barnier has a touch of the lurgy and we have to not only mop his fevered brow (through all the Max Factor he plasters over his decrepit mug), but stop him feeling any more stress by doing what we should have done four years ago. If he is too old and ill to do his job, he should fuck off to retirement.
No doubt Qweer Charmer feels the same way, but he is too cowardly to admit it. Becky probably has no view – she doubtless enjoyed the partying last night before the pubs closed, and is suffering from disco minge this morning. Richard Burgeon or Dawn Butler will lick her clean when they arise from their pits.
I hate to say lovely Lisa is a cunt – but she is, not least for not realising how little relevance her tottering party is to anybody, except the three gurning bleeders who want to lead it (over the cliff if possible)
Nominated by W. C. Boggs