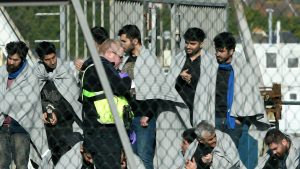 UK Border Force, HM Coastguard and the UK Government ably assisted 90 illegal immigrants onto UK shores yesterday. This successful breach of the UK border by these illegal immigrants was reported by the media, and no doubt seen online on their Iphones by the next lot waiting for lift off in France, and voila! Today we have another 102 illegals arriving and safely helped ashore by the aforementioned co-ordinated, tax payer-funded, taxi service cunts.
Never mind the eyesis brides like Eebygum Treebor and all the ex-freedom fighters going through the law courts trying to get back here to resume their stiff upper lip Britishness. There's an easier way back in..
Any cunt on a Lilo can just paddle across from France and be helped onto shore for a nice cup of tea and biscuits, bed, board and benefits. Any and all of these people helped onto our shores by the pseudo defenders of our borders could be absolutely anyone, and considering they saw fit not to claim asylum through the legal channels, but roll in illegally with likely no documentation, they are as likely to be rapists, murderers, religious fanatics or just plain and simple Jihadists as they are to be genuine refugees fleeing a war torn country.
If they are fleeing war, conflict or oppression, where are their mothers, where are their sisters, where are their grandparents, where are all the wimmin? Left to fend for themselves in the war zone, while in all the news reports I see a club 18-30 for fighting and breeding age young men rolling up for rescue? I'm not buying it! Are you? If it was a genuine thing, the first people heading out to safety would be the wimmin and children with the elderly in tow. Not fighting age geezers.
So, our Border Force and associated crews should be sending these people back and defending our shores, rather than flicking the kettle on before they jump on their boats every night and pan around with their search lights shouting, "How many sugars?!"
Cunts, one and all of them.
Nominated by Cuntry Cunt