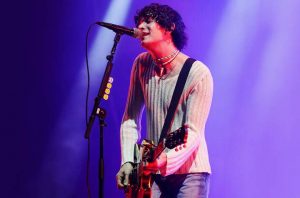 A cunting, if you please, for Matt Healy, frontman for a band called "The 1975". (Nope, me neither.)
This utter cuck has announced that from now on, he and his Soy Boy band will only perform at festivals with a gender-balanced lineup, following a tweet from Laura Snape, Deputy Music Editor for that most cuntish of newspapers, "The Guardian".
Apparently, Snape demanded that they "add a condition to your rider that says you'll only play festivals that commit to X% (ideally 50%!) acts that include women and non-binary performers". Instead of telling the silly bint to fuck off, Healy agreed to acquiesce to her request, saying: "Take this as me signing this contract – I have agreed to some festivals already that may not adhere to this and I would never let fans down who already have tickets. But from now I will, and believe this is how male artists can be true allies."
Now forgive me for being old-fashioned, but time was when a music festival booked performers who were good, or at least popular. But in today's race to the bottom, it's all about being seen to be woke and "progressive" (whatever the fuck that means). Jesus Christ, if the Beatles were starting out today the only way they'd ever be allowed to perform is if John and Paul were bum-fucking each other nightly, George decided he was gender neutral, and Ringo was a drummer of peace.
Fuck you all to hell.
Nominated by Le Cunt Noir