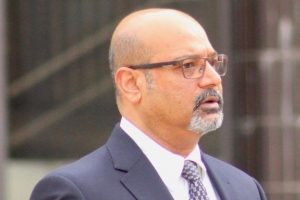 A cynic might suggest that Cunters here are seeking-out doctors of a certain minority group accused of sex offences working in the NHS deliberately, but it's just the case that every news story of this type I click on seems to feature men fitting the same profile.
Dr Vijay Mahendran was today found guilty of groping nurses seven times at work. Seems to think it's OK, apparently, and still doesn't admit he did anything wrong. Got away with it for a period, despite the hospital knowing what was going on and preferring a 'quiet word' than to do the right thing and report him to the police (I wonder if regular people are allowed to grope their staff, or just cunts like this and sons of Shadow Home Secretaries). In one instance he was even groping a nurse while she and a colleague were explaining a dying patients condition to relatives at their bedside:
https://www.bbc.co.uk/news/uk-england-merseyside-51023764
Naturally, the cunt won't do a day in prison. Don't know if he's even going to be struck off. With all these cases of dodgy doctors I think patients are perfectly entitled to refuse to be left alone with some of these people as it's justifiable not to believe it to be safe. At the very least it's not out of line to ask to see the doctors disciplinary record, because with all these guys being allowed to keep working, you can't have any confidence that they will have been struck off, even if they have been guilty of sex-offences.
Nominated by Dr Shagga and His Cunt Munching Machine