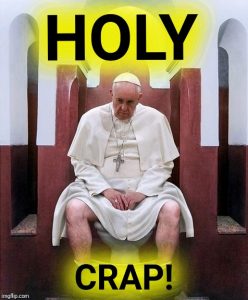 Yes, king of the p***os is back on form.
His New Year's message was his usual tripe, about all the poor migrants foiled in their attempts to get to safety and prosperity by those dreaded borders. So Popey doesn't believe in borders? Bet he was glad of the the little border that kept an over enthusiastic fan from grabbing the papal plonker, and had to settle for his bony old arm. Christ's top man on earth said 'fuck', turning the other cheek, and gave the mentalist a slap, feeble though it was. The plain-clothed, meathead security behind him looked ready to whack the whacko, but as Popey was off on a huff, he had to trot to catch up.
Later, he apologised for his violent outburst, then went on to lecture about violence against women being really bad, mentioning rape and murder, as if to put his little altercation into some earthly perspective. Ah bless….
Nominated by Gutstick Japseye