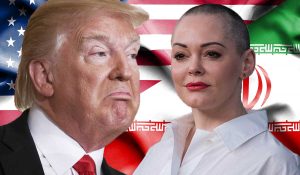 American Z-list actress Rose McGowan has transcended the pinancle of cuntitude with her tweet about The Donald blowing the shit out of some terrorist Iranian general. Apparently, Ms McGowan is shitting her knickers :
"Dear #Iran, The USA has disrespected your country, your flag, your people. 52% of us humbly apologize. We want peace with your nation. We are being held hostage by a terrorist regime. We do not know how to escape. Please do not kill us."
Of course she immediately backtracked after the 52% swiftly called her a traitorous cunt – but at least she achieved her objective because no publicitiy is bad publicity, right?
Rosie darling if you really think the US of A is a terrorist regime, I suggest you visit Iran or North Korea and fucking well stay there.
Nominated (originally) by Bertie Blunt Tory Cunt
to whom Admin wish to apologise for his post mysteriously disappearing.
Maybe the Iranians did it?
Rose McGowan
This is a cunting for this fuckin' asshole of a woman. I hadn't a clue who she is so after Googling, I found out she was a Z list American actress. Why cunt her then?
Apparently after the Americans took out the terrorist Qasem Soleimani, the Iranian General, she tweeted, saying …..
"Dear Iran, The USA has disrespected your country, your flag, your people. 52% of us humbly apologize. We want peace with your nation. We are being held hostage by a terrorist regime. We do not know how to escape. Please do not kill us."
WTF? Can these oddballs get any weirder? I had to look up whether America could still try people for treason. Though the scope for this is limited, they can if " they give America's enemies aid and comfort."
Well, this cow has certainly done that. I say switch on "Old Sparky."
Nominated as per Bertie