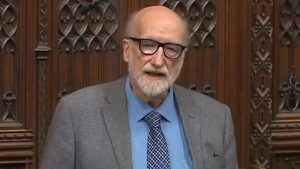 A fred bench cunting please, for Harold Shipman lookalike Lord Greaves, who predicts Britain on February 1st 2020 will be akin to Germany circa 1933:-
https://www.standard.co.uk/news/politics/lib-dem-peer-compares-brexit-britain-to-nazi-germany-in-lords-debate-a4334341.html
The old fuckwit say that people cried themselves to sleep after the referendum result was known! (well, perhaps Lord Adonis had a quick blub) and that people were assaulted (but only Remainers of course).
Time this group of geriatric clowns were pensioned off and their doss house closed down.
Nominated by W. C. Boggs
Christ on a bike, who opened the coffin and let this decrepit, deranged tosser back above ground?
During scrutiny of the EU Withdrawal Bill in the Lords, his Cuntship had the incredible brass neck to state that after 31st January, 'some things may happen…which could be reminiscent of things happening in Nazi Germany in the early 1930s'. The disgraceful arsewipe then waffled on 'there is that sentiment (what 'sentiment' might that be?) among a hostile minority of the population'. He knows this for a 'fact' because, erm, 'people were abused in the streets' after the 2016 referendum. Oh my God, the brownshirts will shortly be coming to a town near you!!
Abused huh? Oh really? Well you shit-for-brains cunt, ever since 2016, you, and people like you, have been relentlessly labelling ME, and people like me, as ignorant, ill-informed, bigoted, narrow-minded, inward-looking, xenophobic, and racist. We've been abused and patronised by the Remoan camp in parliament, the media and entertainment. You've talked down to us in your self-righteous 'we know what's best for you' manner, and we've had to suck it up while you did your utmost to frustrate and deny the referendum result. Oh, ho ho fucking ho. In December 2019 we took your contempt and your sneers and rammed them where the sun don't shine, and now you're stewing slowly in your own juice. We're breaking free from the choking stranglehold of a bloated Brussels plutocracy, so it's your turn to suck it up sunshine.
As for your ludicrous assertion that people are 'crying themselves to sleep at night' because of Brexit, well goodness me. I've never heard such a piece of fucking nonsense. You couldn't make stuff like that up. Well, unless you're a Liberal Democrat peer in the House of Lords of course.
Don't dodge your coffin any longer on our behalf, you senile old cunt. Close the lid on your way back in.
Nominated by Ron Knee