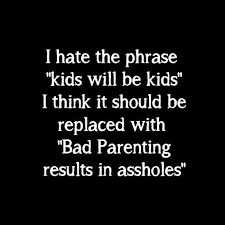 Entitled Parents….
https://www.dailymail.co.uk/news/article-7876959/Parents-fuming-FIVE-year-old-son-expelled-school-violent-behaviour.html#comments
Parents should take responsibility for their own children and not think that teachers and "the system" should teach their child right from wrong.
The brat in the above story needs parents who are prepared to actually raise their child to respect others and make it realise that it's behaviour is unacceptable. Discipline starts at home; teachers should not have to deal with semi-feral brats and their parents who believe that their child is the victim and that everyone should bend over backwards to accommodate their child. Why should teachers put up with being attacked and what about the other children who have to share a school with some badly-reared brat?
The parents say that "he's only a baby…he doesn't know what's happening". Well, he's not a baby, he's six-years-old and he fucking well should know what's happening, because his parents should have got it through to him by that age. They also proudly boast "We make sure they (their other children) get up in the morning…they're not even late (for school)". Wow! Considering that neither of the buggers work, do they really consider it something noteworthy that they manage to pack their brood off to school before settling down for a day doing fuck all?
No doubt they'll get their wish soon and their child will be diagnosed with some modern "Get out of jail free" illness when really, by the sound of it, their child only actually has one "problem" and that is it's parents. I'm not saying that all children that have problems are just badly reared. I do understand and accept that there are genuine illness that cause children problems, but I do sometimes wonder if the line is becoming blurred and some parents would just prefer to have a "diagnosis" so that they can absolve themselves of any responsibility for teaching their children that bad behaviour is not acceptable.
Nominated by Dick de Pfeffel Foxchaser-Fiddler