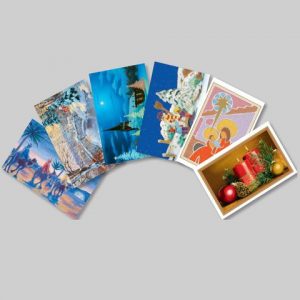 I would like nominate the annual intrusion of Foot and Mouth artist Christmas Cards as a barefaced, cheeky cunt.
I never ask for these fucking dowdy looking things, nor would I purchase them from a shop, even if they were priced £1 for 30 as they look complete shite as Christmas cards (sorry all you foot and mouth artists out there). Now don't get me wrong, I don't wish to demean the skill of painting without using ones hands and such art has its place, preferably at the local community centre or art gallery, where they can be offered for sale to interested viewers, but what pisses me off every year when I open that
familiar thick, overstuffed, white envelope is the enclosed letter that tells me that I can keep them thank you very fucking much or send them £8.95 with no obligation to pay any money. And before anyone thinks I'm an uncharitable cunt, this ain't no charity folks, it's a COMMERCIAL VENTURE that an online investigation eventually revealed to my disgust.
No real surprise there then, eh? Cool. So I get an unsolicited 'gift' through my door that I'm put under emotional pressure to pay for, that I didn't ask for in the first place. Pure heartstring-pulling cuntitude and if I could be bothered to ring the fuckheads to tell them that their business model stinks like a Turkish wrestlers jockstrap, I would most likely be met with a prescripted, sanctimonious reply of some kind and then would really lose my rag, which is something I try to avoid these days at my age. Nope, I will do what I normally do with these cardboard rags and chuck them in the crapster. They make the ideal seasonal accompaniment to my empty chocolate boxes and beer cans.
Emotional guilt trip-mongering CUNTS.
Nominated by Family Farter