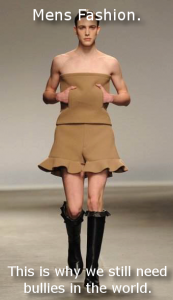 A nomination for men's fashion.
I feel I'm not quite so wrathful of late. Apologies if this seems a half-hearted nomination, however, men's fashion has been on my hit list for a while now.
Not all men's fashion, you understand. More the modern trends, such as wearing your trousers/jeans at half-mast, with white socks and white trainers or, egads – no socks with loafers, or brogues and a suit.
I've also noticed a trend for young men dressing a bit 80s/early 90s, with bumbags around their necks.
There also appears to be an influx of young men dressed like Where's Wally – hipsters and fake nerds.
Nominated by Harold Steptoe