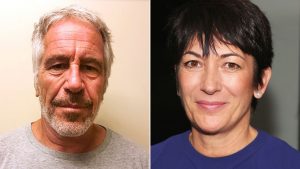 A "Hello sailor, are you looking for a good time?" Piccadilly Circus cunting please, for Jeffrey Epstein and Randy Andy's ponce, Ghislaine Maxwell.
This ugly, leather-faced bitch procured young girls to satisfy these gentlemen, and given that the old whore is the daughter of the late Robert Maxwell, you can be sure she wasn't doing it for charity. Her and her brother Kevin, he who was more sinned against than sinning because his dad bullied him, have always had an obscene taste for money and would take a fifty pence piece embedded in a dog turd in their teeth, such is the avarice inbred in them.
This old trollop was just as involved in her daddy's dodgy business dealings as Kevin was, but has never had to face the consequences. She has a coating of Teflon just like Keith Jim Vaz and Anthony Blair has, and it makes you wonder who they pay to get it. Having outraged with their antics, they walk away from them unscathed.
I don't think for a minute the scrubbers Maxwell obtained for her clients were aspiring nuns. Unless they were totally naive they must have known the "work" involved dropping their drawers and opening their legs, but Maxwell made it easier for the transactions to take place.
https://www.thesun.co.uk/news/10409906/prince-andrew-epstein-ghislaine-maxwell-palace/
Nominated by W. C. Boggs