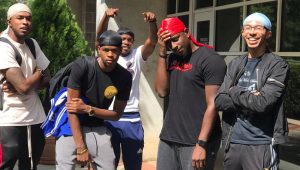 People who wear Doo-rags are cunts, aren't they.
Visiting your town centre nowadays is an education in 21st century fashion: the East Euro's style is baggy grey tracky-bottoms whilst screeching at each other; for the blockades of chuggers armed with clipboards and disingenuous grins, it's waistcoat and ubiquitous lanyard as dress sense; you'll want to avoid touching the fashion choice of the day-tripping pîkeys/farmers, who are modelling piss-stained trousers and threadbare jumpers whilst dribbling, mesmerised, at two-storey buildings; the brown taxi-drivers prefer suits, sans tie, and trainers whilst discussing their next teenage prey in Urdu. However, lately there's been a new trend: The doo-rag.
What fresh shit is this?
It resembles a skull cap or a head wrap. It's a bit like the bandannas that are worn by 90s rockers or women cancer patients. Doris Day used to wear one. They are usually accompanied by an utterance of "Yo to yo" with splayed fingers giving out gang signs although these arseholes just look like they have chronic arthritis. To complement this 'look', they adorn themself with more jewellery than Jimmy Savile.
Why would you wrap these hankies round your noggin? You're not a gangsta. You live in fucking Hertfordshire. As for white teenage boys who wear them, grow up, and get a life, you sorry-looking wîggers. Your name is Jeremy. Your mum's in accountancy and you dad's an estate agent.
Doo-rags have been the best way to advertise you're a cunt since Ugg Boots were invented. This isn't East L.A. or Chicago and you're not a Crip or a Blud, you're a cunt. For the love of fuck, have a word with yourself.
Nominated by Captain Magnanimous
Had to look them up myself,
Durags were originally the headgear of poor African American women labourers and slaves in the 19th century. In the 1930s, during the Harlem Renaissance and Great Depression, the durag evolved into a hairstyle preserver. After the Black Power Movement in the late 1960s, the durag became a fashion statement among African Americans, worn by rappers, athletes, and men of all ages. In the 2000s, wearing durags in public lost popularity in certain areas but maintained its popularity in others. However, because of rappers and the return of waves as a hairstyle, they have now regained their status as a fashion among the African American community.