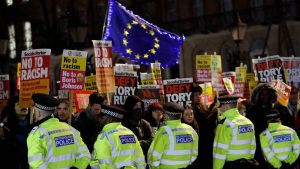 It's been a glorious few days, listening to the excuses given for the disastrous result for labour and the Lib Dem's at the election. With labour, Corbyn blames Brexit, others blame Corbyn, some blame both. The limps are blaming the unfair pact between the tories and the Brexit party, even though they had a similar pact with other leave sympathetic parties, the cunts.
However, in their rush to blame others, they fail to look at themselves, as they are mostly unappealing, to even their own parties, never mind the public. This is apparent, as with both parties, there is not one cunt amongst them who is clearly considered a leader in waiting. The Cunt is dead, long live the Cunt,….
Nominated by Gutstick Japseye
Well these dickheads protesting in London last night about election results. You know the democratically election.
Some got arrested I'd shoot all of them.
It's strange how antifa are one of most facist organisations on earth of course if you are Muslim they will protect your right to be a racist hateful scumbag.
Bunch of cunts and the peacefuls friend.
Nominated by Johncunty
🎸 All together now 🎸
🎼
Are you joining the Job Centre queue 🎵
🎶 All along, down along, out along lea
Are you joining the Job Centre queue 🎵
With David Gauke
🎶 Anna Soubry
Jo Swinson
Dominic Grieve
Zac Goldsmith 🎵
Nigel Dodds
Laura Pidcock
Chukka Ummana
Dennis Skinner 🎶
Philip Hammond
Amber Rudd 🎵
Rory Stewart
Ollie Letwin
And Uncle Tom Watson and all
And McDonnell and Corbyn as well!!!! 🎵
Nominated by Chas C Music
What is it with leftists thinking that everyone shares their political opinion? You'd think after umpteen recent elections (UKIP 2014/Cameron 2015/Brexit 2016/Brexit Party 2019/Boris 2019) showing them otherwise, that they might just take the hint?
But no, I've had several of these idiots attempt to strike up 'conversation' with me, starting with things like, "You'll have to excuse my bad mood today, I'm still fuming about Johnson winning."
I haven't bitten yet, but I'm close (it mostly takes place at work).
It would be interesting to know if others are experiencing similar stuff and if anyone has gone on a rant at them yet?
Yes, tens of thousands of you protest on the streets against Brexit and just a few hundred in favour. However, the only number that counts is at the ballot box.
Nominated by One Flew Over the Cuckoo's Cunt