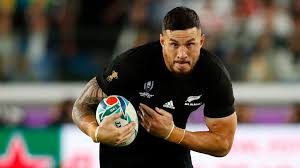 A code hopping cunting for Sonny-Bill Williams.
This archetypal professional money grabber, excuse me, professional sportsman, goes wherever the grass is greenest and the media spotlight the brightest.
His first appearance on the scene was as rugby league player for the Canterbury Bulldogs. After deciding $400,000+ aussie dollars a year wasn't sufficient for a player of his legendary abilities, off he fucked to French Union to milk them dry. A couple of years playing for a French club team apparently made him world class, so up he popped in the All Cunts team for the 2011 world cup. What a hero.
A year or so after, he wandered on back to the ARL with the Sydney Roosters.
Fast forward to the next Union world cup cycle and Monkey-Bill decides there is more money in the dog forsaken Haka and associated bullshit and off he goes again.
A bit part player a best, who's only two "talents" are a shoulder charge tackle and a one handed off load….easy when you're a knuckle dragging cunt to begin with.
In the interim this half witted wank-stain pretended to be a boxer, and his greatest achievement was getting chinned at the weigh in by Francois Botha, which buckled the fuckwits knees.
Wanker, money-grubber, half wit and MudSlime convert. I rest my case.
Nominated by KiwiCunt