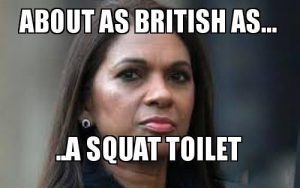 Gina Miller….
Yes, a-fucking-gain – admin
A banjo and banana cunting please, for that rubber-lipped champion of democracy – the flat-chested cunt, Miller, who seems to have progressed from meddling tart to totally bonkers whore with delusions of grandeur. She now believes, apparently, that Boris's manifesto is "aimed" at her:
https://www.independent.co.uk/voices/boris-johnson-general-election-brexit-courts-legal-gina-miller-a9218256.html
Get over yourself, you shit stained scrubber.
Nominated by W. C. Boggs