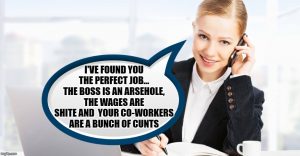 I'd like to nominate Recruitment Consultants for a good cunting.
As if finding a job isn't hard enough, these snivelling cunts make the process harder than one of Geoffrey Boycott's punches.
The only skills required of a recruiter is degenerate, shameless lying. Their most common trick is bigging up diabolically shite low paid jobs to make them sound worth your while. They're flogging careers like they're QVC tat; reassuring you all the while with the disgusting warmth of a recently used wank flannel.
They've got commission on the brain, targets to hit, and they achieve both by preying on people in need of a job just to pay their way. They make the chinless cunts at the dole office look like Dr Barnardo in comparison. Buying and selling people in a slave market…didn't that shit get banned years ago?
Grubby, devious, fucking termites one and all.
Nominated by Herman Cuntster