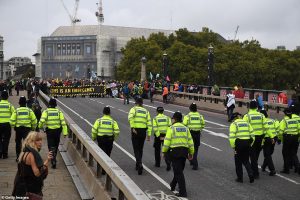 ~Extinction Rebellion,
What a bunch of tossers and the closest thing we will get to the Greenham common women in our time.
Why? well individually they are either massive hypocrites whose husbands have crushed and polluted the masses to enable their "Ethical lifestyle".
Then we have the smelly hippy, never done a days work but know a lot of stuff types, they make me fucking puke too.
so what are the cunts doing? Fucking up London again, although truth be known its pretty fucked anyway without their help, or perhaps I should say the working part of London.
I was watching plod clear them off a bridge earlier, not how I would do it I will say just chuck the fuckers over the side, they would soon think at least once before attempting that stunt again.
And fuck word fence too!
Nominated By Lord Benny.