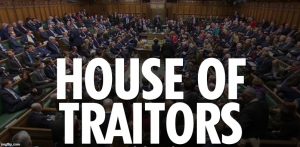 This gathering of cunts does not represent the people who elected it. 400 Leave constituencies would be a landslide under voting protocols but the reverse is true.
They voted for a referendum
They voted for Article 50
The main parties had Leaving the EU in their manifestos
They voted out May's deal three times.
They seem to have made No-deal illegal, thus scuppering any chance of negotiation.
They don't want an election despite Magic Grandpa calling for one constantly.
They wont table no confidence as they don't want an election even though there is now no majority government.
They have used the sainted Jo Cox as some sort of symbol to tar Johnson.
The Speaker is entirely biased against Brexit.
400 or so MPs have lined up with the Establishment, the City, Academia and diverse vested interests to deny the referendum result. They don't want a deal… they want to stay in the EU.
There were terms for parliaments in days gone by – Long, short, Addled etc, but this is the Traitorous Parliament.
Nominated by Cuntstable Cuntbubble