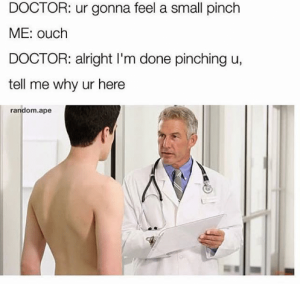 A minor cunting for my doctor, his technique and grammar.
I seem to have developed a Baker's cyst in my knee joint…its rather sore to say the least, so I went to see the trusty doc to find out whats what. He examined my knee and put his thumb into the back of the joint and pushed in.
He asked "Does it hurt when you do this?" I think what he meant was "Does it hurt when I do this?" because no sane person would jab their thumb onto a painful cyst, so no, it doesn't hurt when I do that because I WOULDN'T DO THAT.
You would have to be some kind of deranged masochist to consider doing that to yourself.
Nominated by lord benny