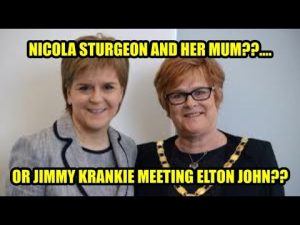 Nicola Sturgeon is a total cunt. Why? Because she's the only twat in the world that can make a complete cluster fuck of a situation (Brexit) with all the political and financial uncertainty, even worse by adding even MORE uncertainty for Scots by calling for yet another independence referendum!
It's only five years ago we had one and fifty five percent of people voted against it, even though it was a "once in a generation" thing, even letting sixteen year-olds vote because they thought they'd all vote for it. She just doesn't listen. The evil Krankie is completely blinkered with independence, but that's not all..she uses arguments that don't add up .
She constantly makes the excuse that Scots don't want to leave the EU and that's a reason for IndyRef2. What a pile of horse shite! Every man and his dog knew the EU referendum was going to happen WELL before there was an independence referendum, so the poisoned ginger snap's speaking shite there. And another thing about the result of the EU referendum…she always shouts about the percentage of Scots that voted to remain in the EU. That may well be true, but it's a UK referendum. It's about the total score and not just the Scottish percentage. Basically, she's taking what she wants from it and completely ignoring what the majority voted for – AGAIN! She's got the audacity to say she's "speaking for the people of Scotland ". Is she fuck! She's speaking for herself and all the people that vote for her poisonous, bigoted, rancid party. Every time this self opinionated, undemocratic excuse of a First Minister speaks, she really should pull out a roll of Andrex toilet paper and wipe her mouth with the sheer volume of undiluted crap that comes from it.
So yes people, in my book, Nicola Sturgeon is a cunt.
Nominated by Evilscotsman