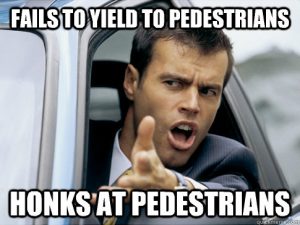 I'm not sure how to word it. I'm not very wordy I'll still give it a go.
I nominate the driver who beeped at me when I was crossing the road. He was driving a sporty car whilst wearing a peaked cap and sunglasses.
He beeped at me whilst we both stopped.
I mouthed at him that I'm a pedestrian.
Pedestrians have right of way. If a car is driven into me whilst I'm stood still or moving I get hurt. If I walk into a stopped car no one gets hurt.
It cheeses me off.
I suppose this nomination is for inconsiderate drivers.
Nominated by Spoonington