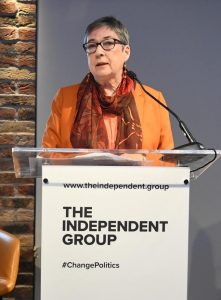 A full supported and relevant cunting for The Independent Group for Change.
The group of MPs who can't even decide what they should be called (The Independent Group / Change UK) The Independent Group for Change have vowed to 'carry on', even though a recent poll has shown they now have 0% support.
After Chukka and Sarah Wollaston sold their souls to join the liberal undemocrats, and others like Heidi Allen became independent from the independent group???, they're down to a whopping five members. But despite this, leader Anna Soubry, the scariest looking woman in Britain, has vowed to continue in their fight against Brexit.
Who's even funding these fucking idiots? What a waste of everyone's time they are. Desperate to not sink away in to obscurity they manage to find something insignificant to say to stay in the press. No doubt they'll all be joining the only political party more irrelevant than them, the liberal dumbcats, to ensure they stay on the gravy train even though no one actually cares what any of them think or do.
They fuck off and make their own club, no one gives a fuck who they are or what they stand for, they piss and moan how no one is listening to them and somehow they're still hanging about like a bad smell. Why aren't they looking for another job like normal people who realise, 'this is not for them'. Being a politician really is the easiest gig in the world, ignore everyone else's opinion and try force your own down everyone's throats, these fuckers are still doing it and somehow earning a living and they're fucking useless.
I would hope this is the last we'll see of Anna Soubry and co, but unfortunately like cats they always land on their feet. I hope those that still hold seats constituents remember what traitorous and self serving cunts they are and tell them to go fuck when the time comes.
Nominated by elboobio